Celebrating the arrival of Porter peaches each year is an Oklahoma summertime tradition.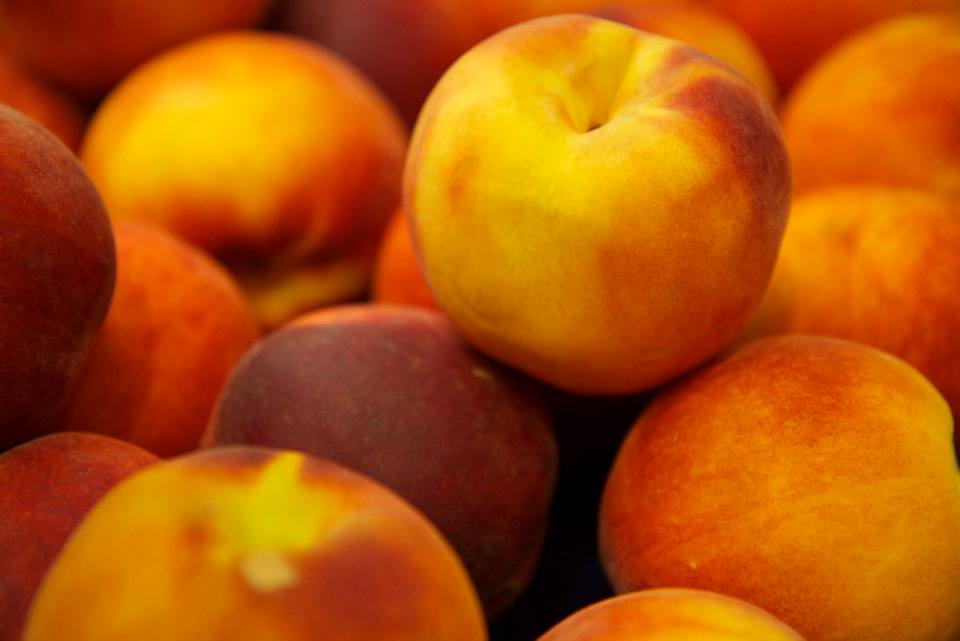 Located about 40 miles Southeast of Tulsa in Wagoner County, Porter Oklahoma has been dubbed "The Peach Capital of the World." Though the town is small, with fewer than 600 residents as of 2015, their reputation for growing summer's favorite fruit is known statewide. The annual Porter Peach Festival, now in its 51st year, is a 3-day celebration of all things peachy. Arts & crafts, music, a parade, car show, 5k run, and peaches and ice cream attract peach lovers from all over the state. This year's festival will be held July 13th-15th.
Since I was a kid, trips to Porter to pick apples and peaches straight from the tree at Livesay Orchards were highlights of the summer and fall. I still enjoy trips out to pick my own fruit, almost as much as I love creating delicious dishes, both sweet and savory when I get home.
Here are some simple favorites.
Peach & Ricotta Salad
When July arrives, I will be using vine-ripened local tomatoes to make all of the Caprese salad I can eat. Until then, my easy go-to early summer salad uses fresh peaches, ricotta cheese, and basil.
This one is so simple, it doesn't even need a "recipe". A high quality olive oil (fruity over spicy - try an Arbequena from Spain) and a good aged balsamic make a lovely vinaigrette to drizzle over the sliced peaches and spoonfuls of rich whole-milk ricotta. We even have a couple of local cheesemakers who sell their ricotta at area Farmer's Market, or you can easily make it at home using local milk from Lomah Dairy or Swan Bros Dairy. Finish the dish with coarse salt, cracked pepper, and a chiffonade of fresh basil.
Roasted Tomato and Peach Salsa
1# mixed cherry tomatoes
6 ripe, but slightly firm peaches, peeled & sliced
2 tsp minced shallot
1/4 C Olive oil
2 Tbsp Champagne Vinegar
Sea Salt & cracked Pepper
Oil for roasting
Fresh herbs, such as basil, cilantro, or thyme (optional)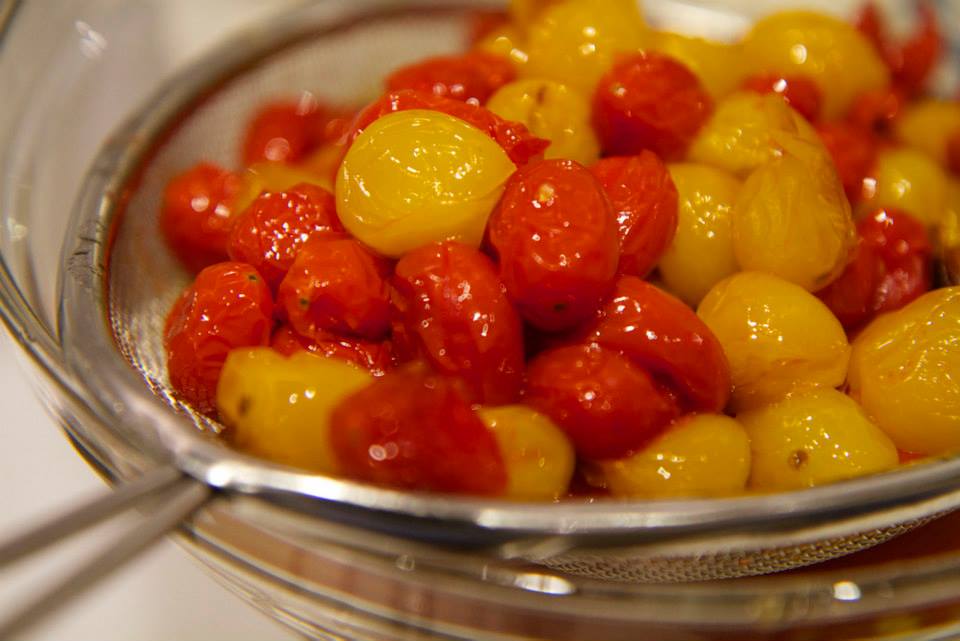 Roasted cherry tomatoes add a savory note to fresh summer peaches
For a simple, versatile topping for meats and fish, this oven-roasted "salsa" can be put together in just a few simple steps. When oven-roasting tomatoes to toss on salad greens, or adding to a pasta dish, I cut them in half and roast them until they begin to caramelize and lost most of their moisture. For this dish, I leave them whole, and remove them from the oven while still plump and juicy.
Preheat an oven to 400 degrees, and line a sheet pan with foil. Toss the tomatoes and peaches in a little oil, just to coat. Roast in the oven for about 20 minutes, until tomatoes swell and begin to color and peaches are soft.
Transfer the tomatoes and peaches to one bowl, and the juices to another. Whisk olive oil, vinegar, salt, pepper, shallot, and herbs (if desired) into the juices, and then toss with the tomatoes & peaches.
Serve warm or at room temperature.
Maple Bourbon Peach Crumble (with candied bacon...of course)
Sweet & Savory is one those combos that divides palates. Some love it, some don't. I'm definitely in the "pro" camp. This easy-to-make dessert mixes ripe peaches, with the warmth and richness of bourbon and maple syrup. Candied bacon adds a sweet & savory crunch.
For the Filling:
2 pounds fresh Porter peaches, cut into thick slices
3/4 C granulated sugar
2 Tbsp pure maple syrup
3 Tbsp Bourbon
1 Tbsp lemon juice
2 Tbsp cornstarch
½ tsp pure vanilla extract
½ tsp sea salt
To prepare filling:
Toss all ingredients together in a bowl, and allow to macerate while you prepare the topping.
For the Topping:
6 Tbsp cold unsalted butter, cut into pea-sized bits
1/4 C light-brown sugar
1/2 C all-purpose flour
¼ C sliced almonds
¼ C rolled oats
1/2 tsp sea salt
2 Tbsp softened butter, for greasing baking dish
Vanilla ice cream, for serving
Candied bacon (recipe below), crumbled, for garnish
Candied Bacon
8 slices of bacon

1/3 C light brown sugar

½ tsp cinnamon
To Prepare:
Preheat the oven to 400 degrees. Mix the brown sugar and cinnamon. Dredge each bacon slice on both sides through the sugar mixture.
Place the bacon on a foil-lined sheet pan and bake for 15 to 20 minutes, (cooking time will vary depending on the thickness of the bacon). Once crisp, place on a paper towel to drain. Once cooled, chop or hand crumble and set aside.
Combine the cold butter, brown sugar, flour, almonds, and oats in a bowl. Work quickly to blend together, rubbing the butter & dry ingredients between your fingertips until it resembles coarse breadcrumbs.
To assemble the crumble, use the softened butter to grease an 8x8 baking dish. Pour in the filling, and top with the crumble mixture. Bake in a preheated 375 degree oven for 40 minutes, until filling is bubbling and crust is golden. If needed, tent loosely with foil for the last 15 minutes to prevent over-browning of the crust.
Serve topped with vanilla ice cream and candied bacon crumbles.