It isn't every day that I'm asked to talk beer & cheese with pop stars, but I recently had just such an occasion. As many may know, one of my favorite charities in our great state is The Community Food Bank of Eastern Oklahoma. Last year, I participated in an all-woman-chef event to raise money to support their mission to end the hunger epidemic in Green Country.

Attending the event was Taylor Hanson (yes, of that Hanson), and a discussion began about hosting another fundraising dinner, this time tying in their growing craft brewery, and just in time for their annual beer & music festival, The Hop Jam. From this, the Brewer's Table was born.
The first in what we hope will become a series of dinners featuring one of the growing number of breweries in Oklahoma, took place in the warehouse which houses the mass amounts of food donated to the food bank. Through the hard work of many employees and volunteers, this food makes its way to the 450 partner agencies in 24 Eastern Oklahoma counties.
For this event, we featured 4 of the Hanson Brothers Beer Co. brews, plus a specialty cocktail made with their Festival Ale. Hors d'oeuvres, 4 courses, and 4 beer and cheese pairings later, we had a room full of happy guests, all to support a very important program in the community.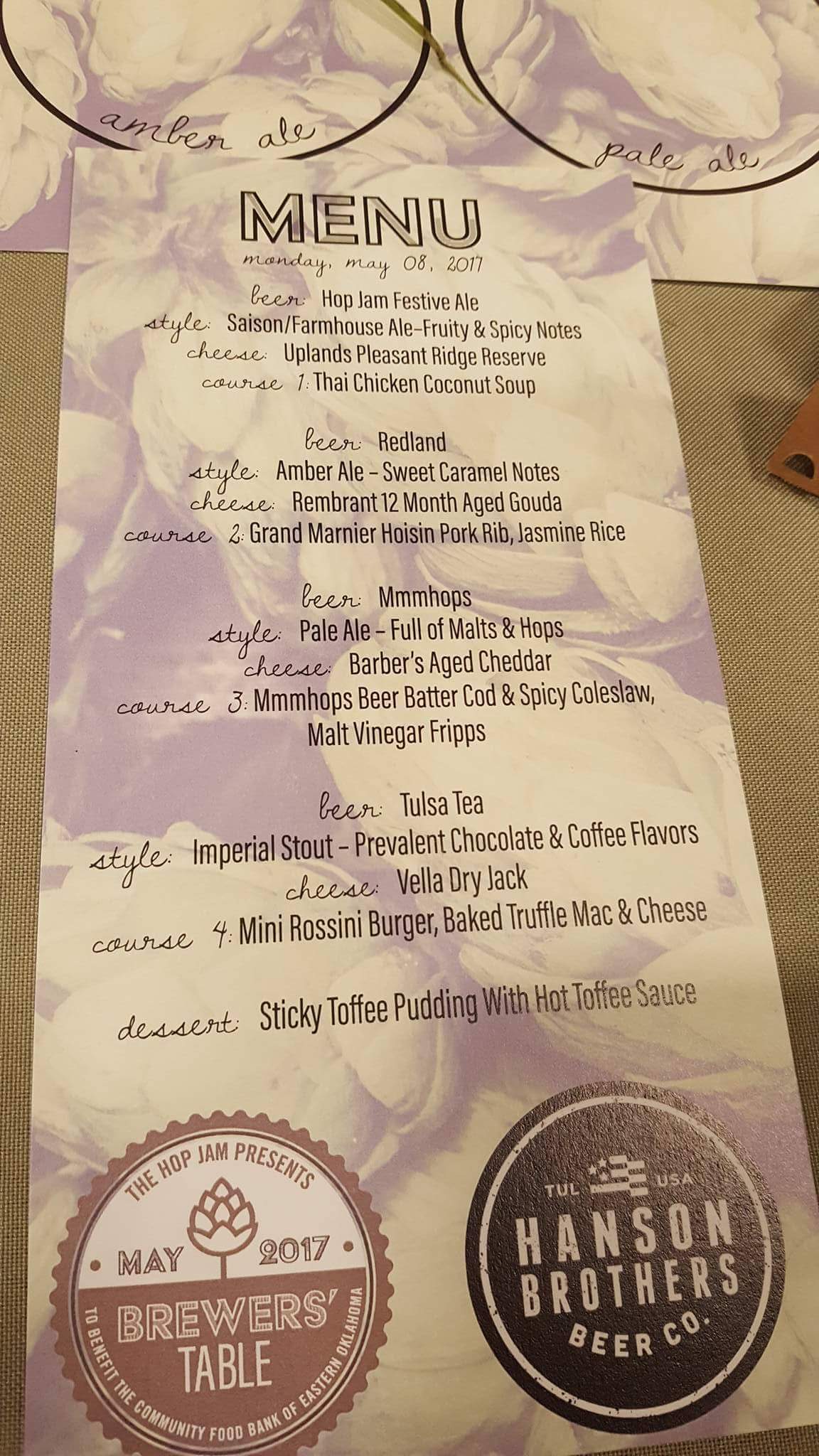 Interested in attending an event at the Food Bank? Check out the calendar!
One of the 4 Hanson Brothers Beer Co. beers paired with the evening's meal.
The Hanson Brothers' beers are brewed at the Dead Armadillo Brewery in the East Village of Downtown Tulsa.
Beer Cocktails?
Chef Marlow and I started the event with a Spicy Farmhouse Mule, using the Hop Jam Festival Ale. The house-made "ginger beer" syrup was infused with Thai chilies, lemongrass, and ginger root. The juice from half of a lime and a mug full of ice round out this take on a classic.