Fresh, seasonal, and truly local.
For those unfamiliar (as I was) with a garden supply store called Grogg's Green Barn on 61st Street, just East of Mingo, you also may not have heard about Oklahoma's newest farm-to-table concept, set to open next month. The Reserve at Grogg's Green Barn will debut their Friday and Saturday night dinners on April 7th. Executive chef Matthew Owen, formerly of Yokozuna, The Canebrake, and Torero Bar and Kitchen; gave me a tour of the gardens, as well as the soon-to-be dining room and open kitchen.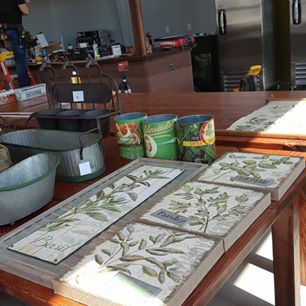 Finishing touches going into the dining room.
"This will be the first true farm-to-table dinner in Tulsa" says Owen. There have been many restaurants focused on serving a menu created largely from locally-grown ingredients, but none within the city who are growing many those ingredients themselves. For that kind of experience, you had to know where to look, and be willing to make the drive to Depew, OK. Many people enjoy the Farm-to-table dinners that chef Lisa Becklund and Linda Ford have been serving at The Living Kitchen Farm and Dairy for the past 11 seasons, so much so that they'll drive from Tulsa or Oklahoma City to attend. That is of course, if they get tickets, which generally sell out within hours of being posted online. The Reserve promises to provide an option a little closer to home. Ticketing is handled in a similar fashion, with 3 months of dinners posted online at once. They outline the different themes the chef will use to create the menu, based on what is currently in season. Each dinner will host 40 guests. Tickets ($75 per guest) are purchased in advance, and include dinner, tax, and gratuity. Owen is working with local brokers to create a beer & wine package option for an additional charge.
The Reserve at Grogg's Green Barn hosts dinners on Friday and Saturday evenings throughout the growing season.
"It's pretty much every chef's dream job" Owen said of the offer that convinced him to leave his current position at Torero Bar & Kitchen, which was named "Best New Restaurant of 2016" by the Tulsa World. He has full creative freedom over a weekly changing 5-course menu, plenty of garden space to produce the majority of the ingredients, and the knowledgeable team at Grogg's to help make that happen. Grogg's raises hens on the property for fresh eggs, and bees for honey as local as it can get. There are several other Oklahoma farms on board to provide the produce they will not grow themselves, as well as meat and dairy. Dinners will only be served 2 nights per week, leaving the space (and the chef) available for private parties, and eventually quarterly cooking classes and guest chef events. The intent is to offer guests fine dining quality, in an unpretentious atmosphere. Owen also wants to push diners in Tulsa forward in knowing and appreciating the source of the food they eat.
Tickets for the April-June dinners are on sale now.